Veganism and animals!
If you do not eat meat, you are not contributing to the slaughter of millions of innocent animals. It's that simple. And yes, you, yourself, do not eat a million animals in your lifetime, and no, one person can't change the world. But with the vegan movement spreading and the increase of the vegan population, more and more animals are being saved and meat/dairy companies are very aware. People seem to dissociate themselves and their food from where it comes from; Let's be real. Your hamburger was not made from a cow who lived a long happy life on a farm. It came from this: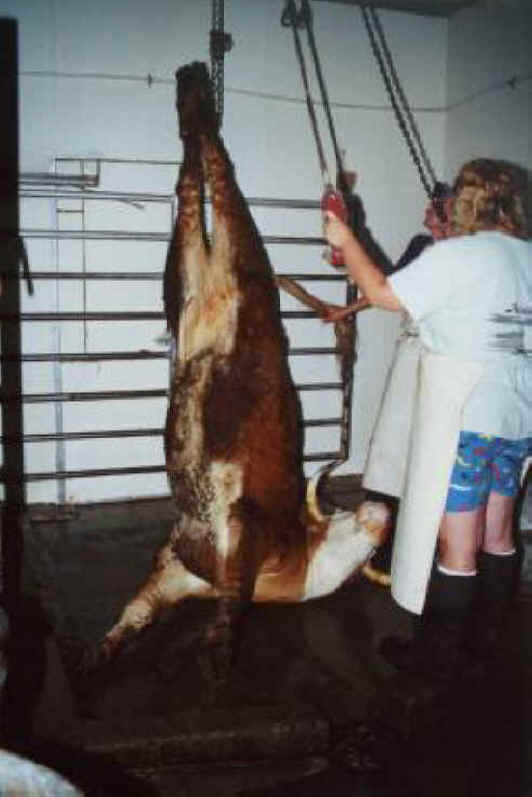 Which leads us to...
Beef farming
Beef cows are primarily male and have their testicles and horns painfully removed with little to no anesthetics to prevent fights in their tight, restricted areas.
They are branded with hot metal irons.
They are held in small, muddy, feces-covered pens in which they cannot move for extended periods of time.
Cows are fattened with a diet of soy, grain, corn, etc. disturbed their digestive tracts severly and cause extreme constant pain. It also creates liver abscesses, an increase of stomach acids, and ulcers.
The stomach becomes inflamed and puts a strain on the cows' lungs, which result in breathing issues. In addition, the air that they can breathe is made up of large quanitities of ammonia, methane, etc.; It is both difficult and painful to breathe.
"The Beef Industry." PETA. N.p., n.d. Web. 30 June 2016.
Chicken and Egg Farming
Approximately 8 billion chickens are killed for meat in the US alone each year.
They live in windowless sheds with no proper ventilation, meaning large amounts of ammonia gas are present in the air they breathe. Artificial lights are set up in order to get the chickens to eat more frequently to gain more weight. Some chicken become so overweight and their breast get so fat, they're immobilized.
Due to rapid growth, chicken develop diseases such as ascities since their bodies cannot keep up.
Hens are raised up in awful conditions and most male chicks born into the male industry are thrown into macerators (grinding machines) alive.
They also suffer from skin chafing, loss of feathers, broken bones (osteoporosis), and utter exhaustion and only after 2 short years of life, their reproductive systems begin to give out and they die prematurely.
Those who survive those cruel years end up at the slaughterhouse.
Chickens are hung upside down either in traffic cones or with metal shackles on their ankles. While fully conscious, their necks are slit manually or by machines. Subsequently, they are immersed in scalding hot water for their feathers to be removed. Many of the chickens do not die during these procedures, but die of their injuries afterwards in excrutiating pain.
"Poultry and Eggs: Industries That Abuse Chickens." PETA. PETA, n.d. Web. 29 June 2016.
Turkey Farming
The turkey eggs are hatched in incubators, and the babies are to never see their mothers. In natural environments, a mother turkey and her child would form a loving bond.
When they grow up, they're transfered to large sheds,similar to those that chickens in the industry live in. The tips of their beaks are cut off and most times, without anesthetics.